Integration of ICT in Private Households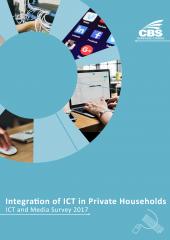 Summary
Technology and the internet have become an important part of everyday life. It has transcended physical boundaries and made the world smaller. As it integrates everyone's life, technology is now a basic need and it is thus important for a country to be well-integrated with ICT capabilities.
The ICT Development Index has been developed to allow international comparison. As a population the IDI index of Curaçao is 6.9 out of a maximum score of 10. This index looks at different areas. The area that has the most opportunity for improvement is ICT access. ICT access includes internet speed and this is where we as a country are lacking the most.
The ICT & Media Survey conducted in 2017 aims to understand the level of internet penetration and usage in households and by persons aged 6 and older. With online presence intruding on all levels of society such as social interaction, education and entertainment, it is imperative that we understand to which extent information technology has integrated our society.
The results show that younger generations are more involved with information technology than the older generations. It also depicts a gap between males and females. The reason for this gap might be generational as literature suggests however, the difference in generations will be explored in a Modus article "Technology and Media Use through Generations".  
For more information of the ICT & Media that was held in 2017 please click here.